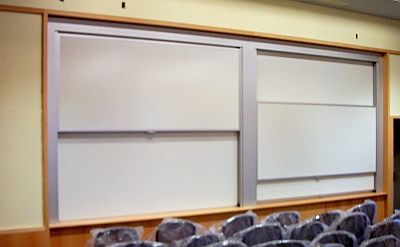 Sliding units are designed to maximize your workspace by adding multiple levels of working area ... custom built to your specifications. Sliding panels glide with ease on precise counter-weight & bearing/ track systems. Standard Vertical System consist of 4 1/2" thick
aluminum frame, fixed rear panel with 2 sliding panels.
Slim Housing available with 2.75" face.
Housing Options:                                          
• Wall or floor mounted
• Surface mounted or recessed
• Manually Operated or Motorized.
• Maprail with tan or gray cork insert
• Box or Blade tray
• Satin anodized aluminum or painted
• Headerless (uprights only)
Panel Options:                                               
• 1-3 Sliding panels made with HoneyComb core
• Backpanel
• Kick Panel    
Panel Facing Options:                                   
• Marker or Chalk
• Laminate
• Cork